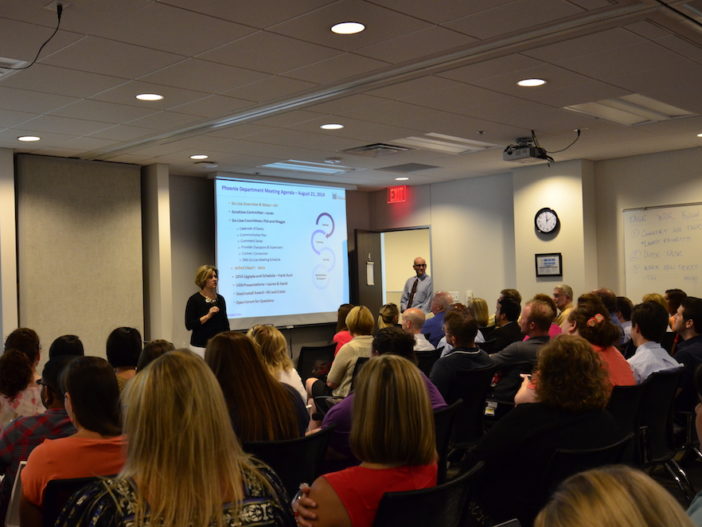 Hi, I'm MJ Reiners, President of Summerland Education. Welcome to my new blog "Get into Team Flow."
The purpose of this blog is to create an online community for agents of change to get ideas and support to help them be more successful. My expertise is in healthcare IT but team flow applies to all companies and all industries. I welcome ideas and feedback from anyone "in the arena" fighting hard to lead change and most importantly, help those affected by disruption today.
As an organization change consultant, I work on the human side of technology change. I am fascinated by innovation and change and for the past 15 years, I have led large-scale transformation projects by installing electronic medical record software in large hospitals and clinics across the country. What I have learned about change applies to all projects, to all companies.  And change is speeding up.
My specialty is helping organizations reach breakthrough performance with projects that are sometimes perceived as "impossible".  Most recently, I advised an amazing team in Dallas, where we turned the software on to over 250 physician offices on a single day. Over 800 doctors. To share the scale of that, in the early days of doing this implementation work, we would average one clinic a month. So that would have taken this team up to 20 years to complete this "impossible".  And we came in on time and on budget without an impacting the organization's cash flow. Another "impossible"!
So many books and advisors will tell you what to do but now why it works. I think the why is important. This blog will share my techniques for getting your teams into high performance, into team flow, in order to improve success in your own organizations. I will also share why these techniques work. And here is the thing – you don't have to believe anything I share here – in fact, I would prefer that you don't. A far better path is to take these ideas and try them out on your own. Adapt them or adopt them for your own customers, with your own projects. I think that you will find most often is not just what works, but what works well and what works like magic.
Healthcare is the last industry to computerize in the US and it is still struggling. Costs are too high and outcomes are too low – especially for the amount of investment made. Many organizations have invested millions in technology to only tap a fraction of that potential. The reason for that is because technology is advancing faster than our human skills are keeping up.  We have to build our human potential along with technology change.
The exciting thing about Health IT (and all industry really) is that we are on the cusp of even more dramatic change and innovation – genomics, predictive analytics, robotics  – all hold real promise for finally improving health outcomes and reducing costs. But again, this potential will only be tapped if these technologies are adopted and used successfully. We have to learn how to get things done using human potential together.
How do we go about that? Successful change, effective adoption, skill development – How to we help customers get full value of their investment? How do we align competing priorities? How do we get into Team Flow to get things done?  That is what this blog is all about.
I welcome you to join our Makers of Change community.
http://summerlandeducation.com/wp-content/uploads/MJ-Dept-Mtg1000.jpg
662
1000
MJ Reiners
http://summerlandeducation.com/wp-content/uploads/summerland-education-1.png
MJ Reiners
2017-05-03 10:23:40
2017-06-07 10:09:16
Join Our Online Community for Makers of Change