To your organization, big change might seem daunting or even impossible. Whether you're introducing a new technology or optimizing your existing systems, your team will naturally resist change. That's where Summerland Education comes in. With more than 15 years of experience in implementing electronic medical records and large-scale transformations, we've been through this before. We know what to expect and how to avoid the dangers of organizational change.
The risks of launching a large healthcare IT project without an experienced advisor are enormous. At the very least, people's lives will be disrupted and your team will suffer from anxiety and frustration. A badly run project can leave people feeling like:
they don't know who is supposed to be doing what;
there are conflicting priorities and agendas;
there is a lack of direction;
decisions are not being made efficiently.
At its worst, a badly run project can run millions of dollars over budget, and failure could result in jobs being lost.
Many healthcare IT consultants will focus solely on the financials or the project management logistics. Those things are just the starting blocks of a successful project. At Summerland, we improve business outcomes by focusing on the people behind the project. That's the piece that is often ignored, which causes big change initiatives to fail.
You can't change the way someone works every day without addressing how that affects them personally. We transform group performance using proven techniques and tools that dramatically improve team productivity and achieve promised results.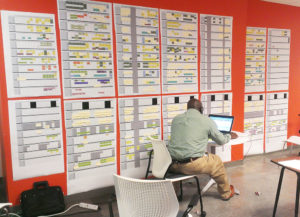 Metrics are absolutely key to what we do, and we are constantly trying to improve and master our craft and help your team do the same. We measure success by asking these questions:
Did the project come in on time and on budget?
Are your end users happy with the technology and are they using it?
Are the end users using good work habits that help them work efficiently?
Are the end users performing at a level of their peers or above?
Is your team equipped with the knowledge and skills to adapt to change and take on disruption?